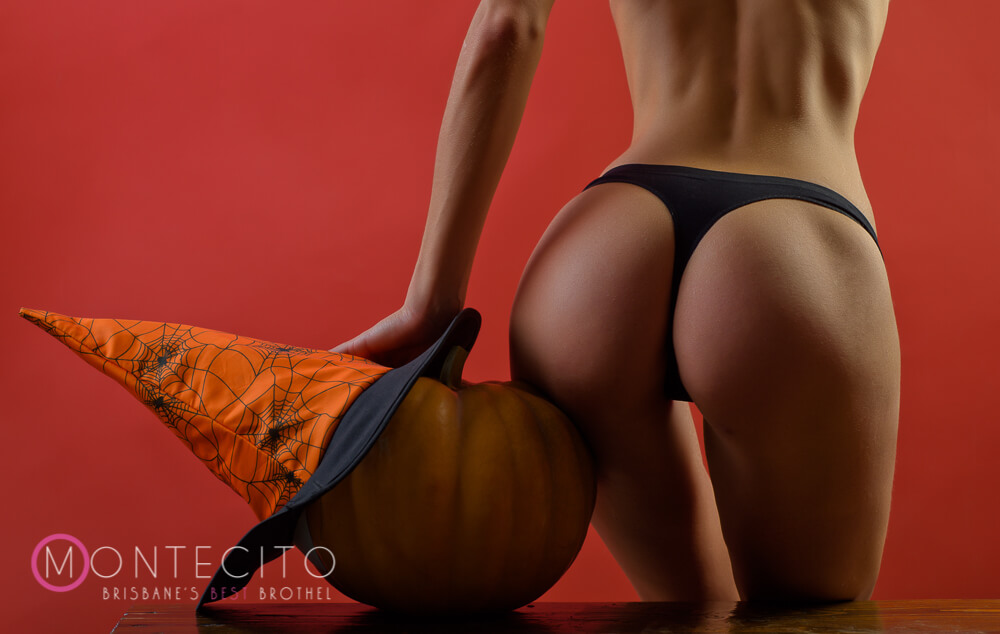 Halloween is 24 hours away and the sexy in-house escorts at Montecito are already trying out their costumes to find the most provocative one….from cheeky cheerleaders to wonder woman…….these playmates will definitely have you spellbound!
And just to keep things fresh and exciting….we have scoured the Internet to find a couple of ideas to help you make this Halloween the sexiest and hottest one ever….with some absolutely mind blowing sexually charged fun….. (as always this is for a bit of light reading and entertainment only and is not indicative of any services offered at Montecito)
#1. May be pretty obvious since it's Halloween…..but role play is definitely our number one choice to ramp up the sex here at Montecito. Many people are self-conscious about admitting their deepest fantasies and what really turns them on. Role play is a way of pretending to be someone new, making it more comfortable to share desires. In fact in a survey undertaken by match.com, 60% of respondents stated that they felt more sexually confident when wearing a costume (Engle, & Anderson, 2019). So think long and hard about what you would like to explore…..maybe a bit of domination or submillion a la Fifty Shade…and come on in and play.
#2. New positions. These sexy little tricks, courtesy of Jill Hamilton for Cosmopolian, could be a real treat in the bedroom! (Hamilton, 2019) The Sugar Rush: enjoy a little trick or treating on your body with the use of little blobs of flavoured lube marking a trail from one erogenous zone to the next……..and as we ALWAYS practice safe sex here at Montecito…..flavoured condoms are always a hit. The Vampire's Kiss: While entwined throw back your head to reveal one of the most highly erogenous zones on the body; the neck. Grab your partner closer and in deeper while they tickle and tease your neck. The Broomstick Ride: Picture an elevated reverse cowgirl…..don't forget to have her circle her hips like stirring a cauldron……
#3. Toys. Who doesn't love to add a little something extra in the way of toys during sex play. According to Refinery29, the popular Halloween themed sex toys for 2019 include pumpkin-shaped butt plugs, Grim Reaper and dragon dildos, R.I.P grave stone paddles, (if you're into a little spanking….remember…judgement-free zone here!), and ghost ****ring's (Smith, 2019).
So fire up the imagination, get creative and make this Halloween the sexiest one yet…..XXX
References: Hamilton, J. (2019, Oct 2). 11 Halloween sex positions to satisfy alllll your cravings. Retrieved from: https://www.cosmopolitan.com/sex-love/positions/g8040848/sex-positions-for-halloween/
Smith, E. W. (2019, Sept 25). These Halloween sex toys will make your costume complete. Retrieved from: https://www.refinery29.com/en-us/halloween-sex-toys
Engle, G., & Anderson, C. H. (2019, Oct 17). Have a sexy, spooky night with halloween-style role play. Retrieved from:https://www.shape.com/lifestyle/sex-and-love/spice-sex-halloween-style-role-play